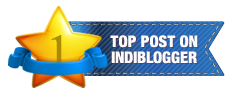 I'm definitely not a huge fan of chick-lit but Anjali Kirpalani's debut novel Never Say Never is both refreshing and funny, a breath of fresh air that is young at heart and sweeps you away. The genre is predominantly targeted at young adults and unfailingly keeps you entertained till the end.
Never Say Never
is the story of 25 year old Nikita (an impulsive and confused female protagonist sure to bring a smile on your face) who is unemployed and desperately in love with her best friend's fianc
é
Raghav, a radio jockey on popular radio station Spruce FM. To top it all, Nikita is in a relationship with Deepak, a man she finds absolutely intolerable. Living off her best friend Aziza (who is gorgeous to boot) in a tiny apartment in Mumbai, Nikita makes six vows on her cousin Natasha's wedding night which include to
never
marry for money,
never
doubt her abilities,
never
have feelings for an unavailable man,
never
stay in a relationship with someone she doesn't love,
never
get completely drunk in public and
never
wear velvet! Caught between love and loyalty, Nikita's life is turned upside down when a series of unexpected events hurl Nikita and Raghav together. As if this isn't enough, Nikita's current beau Deepak (who actually turns out to be the owner and heir to some multimillion company) proposes marriage to her. Can Nikita yet stick to her vows? Will Nikita get a job and eventually marry for money?
Narrated mostly by Nikita, the story also brings to light the lives of Aziza, Sid and Raghav (narrated in their own voices). Aziza, who is all set to marry Raghav, finds herself increasingly drawn to her ex-boyfriend Mohsin while Sid (tall, dark and handsome; in short a woman's ultimate fantasy) struggles with his feelings for Nikita. Raghav on the other hand feels trapped in his relationship with Aziza and finds himself unable to resist Nikita's charm.
Yes, all this may definitely sound very confusing but the story surprisingly isn't so. The narration is witty, simple and hilarious and the characters, struggling with their own emotions, are well expressed. Most importantly, read this book if you wish to be entertained on a lazy summer afternoon. It is sure to bring a smile to your face and keep you hooked (with its unpredictability...umm, okay gets a bit predictable in the end) and the pages turning.
Verdict: High On Entertainment!! Read it if you have nothing better to do. ;)
Rating: 3.1/5