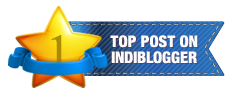 Mr. Tempted-to-Touch
The metro is unusually crowded this evening and his inner demon salivates at the sight of so many beauties. Ah... Those curves... His hands move of their own accord to touch the enticing back of the young female bombshell standing right next to him when his phone suddenly vibrates to life and starts chanting in a sing-song female voice:
So you are tempted to touch the woman next to you and must be cursing your damned phone right this very moment. Yes she must be tantalising as hell and you might want to blame it on her clothes but let's pause for a while and think (go ahead, try to turn me off but I'm one determined lady). The girl you were about to touch (the correct word would be molest but we will go easy on you for now) could have been your daughter (or wife/or mother) and I wonder if you would still feel the same way then. But I believe this makes no sense to you (otherwise you would have refrained from touching her in the first place) so we will stick to more logical reasoning for now (since your pea-sized brain is yet unable to decipher what this is all about). You see Mr. Tempted-to-touch-that pretty-lady-next-to-me, it is morally incorrect and disrespectful to touch a woman without their permission. Or better still.....
The man has by now turned red in the face and people are staring wide eyed at him. He hastily makes a run for the exit at the next stop.
(So ladies, wouldn't it be nice if phones could sense intentions and actually do the requisite by teaching men as to why it is necessary to respect women?)
The Tale of a Pervert
Raju has bought this new phone that comes with a lot of stunning features and the female back at the shop seemed pretty intent on selling it to him (Women... They just can't resist my charm). He had actually tapped her lightly on the back when she wasn't aware and watched her scuttle hurriedly away from the room, her face red with embarrassment. Of course he would get his share of entertainment today at the bazaar, watching those ripe young women scamper in a rush as he whistled at them and even felt them up if the opportunity presented. As he lay lost in thoughts in his bed, his phone sprang to life and started chanting in a sing-song female voice:
Thanks for buying this phone for you must know the amazing features it comes with, one of which is 'School the men '. Today in 'School the men' I would like you to note down certain do's and don'ts when it comes to women. If you are one of those perverts that needs to fuel up his esteem by teasing women in parking-lots, roadsides, shopping malls (in short anywhere you go and find yourself drooling at the sight of so many women), the primary don't on your list should be (please note it down carefully if you especially fall in this category) to not indulge in eve-teasing. You can go boost your esteem by indulging in activities that make a difference instead of extracting pleasure by teasing women on roadsides. The next don't on your list....
Raju hurriedly dons his shirt and wonders how to stop his phone from making such a racket early in the morning. Unable to find any way out he is forced to listen cursing the saleswoman back at the store.
(Smartphones that instil values in men whether they want to listen or not? Smart way to teach those crooks back at the mall a lesson, right?)
We women face innumerable incidents each day, starting from eve-teasing on the roadsides to sexual harassment whilst travelling. A super power I wish my phone had? I wish it had the power to make the world a safer place for women. I wish it could stop this blatant injustice against women so that we could live more freely and unshackle the social bonds that steal our joy and independence.
And now, here's the big news of the season.Taiwanese tech major Asus is all set to release its Zenfone series of smart phones (the Zenfone-4, the Zenfone-5, the Zenfone-6) in India on July 9th,2014. Equipped with features that are bound to blow your mind the Zenfones have stirred quite an interest in the Indian market. I have been going through the reviews of the phone and the Zenfone range seems both promising and distinct. I look forward to its unveiling in India.
The highly-anticipated Zenfone series (namely Zenfone 4, Zenfone 5 and Zenfone 6) is to feature screens ranging from 4 to 6 inches and is rumoured to come in a wide range of colours - black, white, red, purple, and even gold!! Well here is a phone to meet your sense of style. The Zenfone 4 features a striking 4 inch display with swappable covers in a variety of colours. It supports micro-SD upto 64 GB!! And now you can keep alive all your cherished moments and store photos, videos, apps and more! The Zenfone 5 supports a prominent IPS HD display that can even be used while wearing gloves in winter. The smartphone runs on Android 4.3 Jelly Bean with an update to Android 4.4 Kitkat and comes in two variants of 8 GB and 16 GB, supports a neat and spacious user-interface, 5.8 megapixel camera and RAM upto 2 GB!! Zenfone 6 offers a fantastic 6-inch HD IPS display complemented by SonicMaster audio technology to deliver immersive entertainment experiences. It is equipped with a powerful 13-megapixel camera for clear, high-resolution photos.
Well what more could you ask for? So get ready for the launch of this amazing series in India!!
Zenfones- Big features, bold style...
(This post is written as part of the

In Search of Incredible

contest on

Indiblogger

, in association with

ASUS

.

)